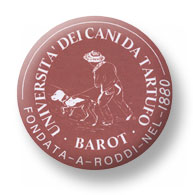 Welcome to the official website of the truffle-dog University.
Here you can find information about the ancient art of the search for the truffle, which has been handed down in our family for four generations and today it has been entrusted to my care.
In Roddi, just next to the castle, I have recently opened a small museum, where I wanted to collect the history of my family and of this particular job.
Together with photos, newspaper articles and lots of awards for this activity, you will also find the typical products of the Langhe hills and, if it is the right season, fresh truffles.